It was also an exercise in how to prevent an accident happening to you.
TIRE PRESSURE - Did you know that your tires lose one pound-per-square-inch (psi) per month, even if your wheels and tires are in excellent condition? Over time, air escapes, and your tires will slowly deflate. Is this really a big deal? Read on.
Michelin prepared two cars to test on a water soaked circuit. Both Ford Crown Victorias of the same specification, the only difference was that one car's rear tires were five-psi below the manufacturer's recommended pressure.
True, the Crown Victoria is not what you'd call a "handling" car (even though police forces love them), and driving this big, rear-drive vehicle through sharp turns on a wet surface is tricky enough at the best of times (ie: with tires at the correct pressure, in dry conditions). But the test car withproperly inflated tires was controllable, and did behave reasonably well.
This was not the case for the other car. A mere five-psi difference in the rear tires was all it took to ruin that vehicle's ability to negotiate turns. The back end would quickly lose traction and the car would "fishtail" in classic rear-drive fashion. Some drivers had the car rotate 180- degrees before coming to a stop.Under-inflated tires, it turned out, not only wear more quickly, and cause you to use more fuel, but they can be decidedly unsafe.
Check the Michelin-supplied pictures illustrating the contact patch of tires that are correctly inflated (in this case 35 psi, although that's not the correct inflation for all tires), underinflated by five psi, and underinflated by 10 psi. Notice how less of the tires' tread is in contact with the road as the pressure is reduced, hence the propensity to lose control at speed, especially on wet surfaces.This is so simple to fix by checking your tires monthly with a tire pressure gauge. But do make sure you know what the recommended pressure is (it's usually stamped in the door jamb and listed in your owner's manual - it's NOT on the tire), and do check them "cold," before the tires warm up from driving. Shortly, all new cars will feature standard tire monitoring systems, which should help consumers to maintain correct tire pressure.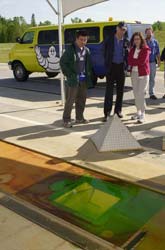 Camera embedded in the road photographs tire's contact patch
at designated speeds.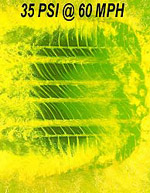 Contact patch of tire running at manufacturers recommended pressure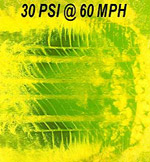 Contact patch of tire running
five-psi below manufacturer's recommended pressure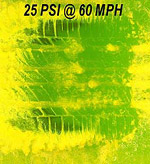 Contact patch of tire running
10-psi below manufacturer's recommended pressure